Cage Warriors' Double Trouble End of year bash gets underway tomorrow night with CW 131, emanating from the iconic York Hall in London.
The night sees two title fights, with an undercard filled to the brim with talent.
In the main event, Matthew Bonner defends his middleweight title against the undefeated Djati Melan, while in the co-main event, a new lightweight champion will be crowned, as Mehdi Ben Lakhdhar and George Hardwick square off inside the cage following Joe McColgan's decision to vacate the title.
When asked about the Double Trouble events, Cage Warriors president, Graham Boylan said: "Firstly, I want to thank all the CW staff, we had an issue with the government requisitioning our hotel earlier this week, and my team moved mountains to keep this event on while staying within Covid-19 guidelines.
"But, now we can focus on the fights, and we have some absolute corkers to end the year with.
"Matthew Bonner was a breakout star during our Trilogy series, so now it's time to see if he can keep that momentum as we return to normality by defending his title against a very talented fighter in Djati Melan.
"The co-main is one you do not want to miss. George Hardwick and Mehdi Ben Lakhdhar are two of the most dangerous fighters in the lightweight division inside Europe, and they are fighting for a title with such an incredible lineage.
"I can't wait to see all these guys in action and enjoy the fights with our fans."
Matthew Bonner is currently riding a four-fight win streak, that has seen him dethrone Nathias Frederick with a rear naked choke, and previously beat former middleweight champion, James Webb, by TKO.
Djati Melan returns to Cage Warriors with a 7-0 record, with three knockouts to his name.
In the co-main event, George Hardwick enters with an 8-1 record, and has finished his last two bouts.
The Middlesbrough Fight Academy fighter beat former featherweight champion Dean Trueman by KO with a devastating body shot, before submitting Jakub Dohnal at CW 129 in October with his favoured Guillotine Choke.
Mehdi Ben Lakhdhar holds an unbeaten record and is known for his dangerous striking ability. After a year out of the cage, his return sees him fight for the biggest title in European MMA.
Also on the main card, Oban Elliott and Madars Fleminas face off in a welterweight contest, home town favourite Will Currie takes on Nikola Zaltev at middleweight, and in a 190lbs catchweight contest, Christian Duncan and Justin Moore go head to head.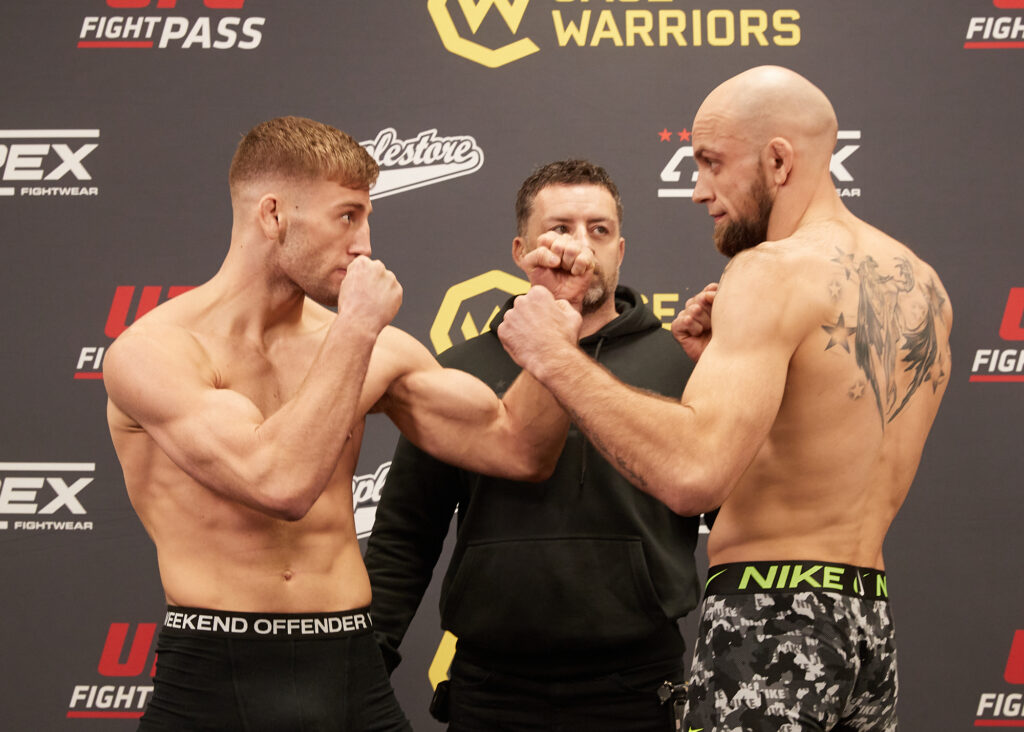 Due to issues outside of Cage Warriors' control, two bouts have been removed from the card: Ben Rees vs PK Zadeh, and Yassine Belhadj vs Danilo Belluardo.
Cage Warriors fans can tune into the action from 6:30pm GMT live on UFC Fight Pass and Cage Warriors' global broadcasting partners before the main card kicks off at 9pm.
A limited number of tickets are still available for purchase here.
Main Card (9pm)
Matthew Bonner (c) 184.2 lbs   vs. Djati Melan 184.7 lbs  – middleweight title bout
Mehdi Ben Lakhdhar 154.4 lbs vs. George Hardwick 153.9 lbs – vacant lightweight title bout
Justin Moore 187.1 lbs vs. Christian Duncan 189.9 lbs  – 190lbs catchweight bout
Will Currie 185.6 lbs vs. Nikola Zlatev 185.5 lbs  – middleweight bout
Madars Fleminas 170.1 lbs vs. Oban Elliott 170.2 lbs – welterweight bout
Prelims (6:30pm)
Kingsley Crawford 135.3 lbs vs. Liam Gittins 135.1 lbs
Jean N'Doye 145.2 lbs vs. Tom Mearns 145.7 lbs
Yuki Angdembe 135.7 lbs vs. Luke Riley 135.9 lbs
Samir Kadi 186 lbs vs. Michael Tchamou  183 lbs
Nik Bagley 145.6 lbs vs. Scott Pedersen  143.9 lbs
Mikail Bayram 154.6 lbs vs. Adam Cullen 155.5 lbs